TATRANSKÝ DÓM - UZAVRETÝ
Z dôvodu ochrany zdravia a preventívnych opatrení na zamedzenie šírenia ochorenia COVID-19 uzatvárame od 13.03.2020 do 26.03.2020 prevádzku všetkých horských stredísk a taktiež prevádzku TATRANSKÉHO ĽADOVÉHO DÓMU. Ďakujeme za porozumenie.
OPENING ON 22.11.2019
9:00 - 18:15
Spend a beautiful winter in the High Tatras and enjoy unforgettable moments in the Tatra Temple of Ice in Hrebienok, which is inspired by the
Notre-Dame cathedral, or the Virgin Mary cathedral this year.
Visit Hrebienok in winter and experience the magic of the spectacular TATRA TEMPLE OF ICE. The dominant beauty of ice can be admired in Hrebienok from 22nd November 2019. The masterpiece has been created by 18 sculptors from Lithuania, Germany, Poland, Tschechia and Slovakia. Adam Bakoš was the main designer again. An unbelievable number of 1,880 ice blocks, which is 225 tonnes of ice were used to build the cathedral that is placed under a cupola-shaped cover with a diameter of 25 m. The highest point of the cathedral reaches 11.5 m.
The Notre-Dame cathedral, or the Virgin Mary cathedral is the main topic of the beautiful and spectacular temple this year. The French Gothic-style monument is on the list of the UNESCO World Heritage and lost some of its beauty in a devastating fire on 15th April 2019. The Tatra Temple of Ice will present a copy of the well-known western facade with three main entrances, a stained-glass rose window above the middle entrance and two main towers that serve as bell towers.
The majestic piece of art, one and only in Slovakia, is definitely worth visiting. Precise work and details are emphasised by beautiful lights. Visit the Slovak rarity and feel like in a fairytale of ice for a while. The temple offers an even more emotional atmosphere during live music concerts which will be held inside during the winter season.
KONCERTY V TATRANSKOM DÓME

24.11. 2019 o 15:30 - Barbora Botošova a Lukaš Pišta
Barbora Botošová, vnučka legendárneho virtuóza Jána Berkyho Mrenicu, je slovenská huslistka a interpretka zastupujúca predovšetkým žáner World Music a Ethno-Jazz. Lukáš Pišta študoval hudobno -dramatický odbor na Štátnom konzervatóriu v Bratislave. Na doskách Divadla Nová scéna ste ho mohli vidieť v muzikáloch Hairspray (Seaweed), Obchod na korze, Mata Hari, Madame de Pompadour.

29.12. 2019 o 15:30 - Music Theatre Orchestra
MTO je univerzálne hudobné teleso, ktoré ma široký a kvalitný repertoár. Presvedčili nás o tom aj na otváracom koncerte Tatranského dómu v roku 2017, kde v ich podaní odzneli náročné skladby od Haydna, Pietra Mascaniho, Bacha ale aj Mariána Vargu.

5.1. 2020 o 15:30 - Ján Fiala a Štefán Szabo
Koncert je určený pre všetkých milovníkov dobrej hudby. Gitarista Štefana Szabó sa predstaví v hráčskom duete s Jánom Fialom/vibrafón, bicie. Štefan Szabó je člen skupiny Zuzana Mikulcová Band.

23.2. 2020 o 15:30 - SUNNY MOON
Akustické duo hrajúce v štýle live looping skladby od všakovakých autorov našej planéty. V ich podaní môžte počuť pesničky slovenské i zahraničné, rýchle i pomalé, smutné, veselé a ešte veselšie. Prinesú k Vám trochu slnečných hudobných lúčov a melodického mesačného svitu.
12.4. 2020 o 15:30 - Martin Geišberg a Daniel Špiner.
SANDONORIKO je autorský projekt s autorskou hudbou a autorskými textami. Texty sú magicko realistické a hudba poetická, občas premiešaná básňami, nebrániaca sa ani experimentu. Projekt trvá štyri roky a má za sebou desiatky koncertov a hudieb do divadelných predstavení. Po 13 rokoch Martinovho aktívneho pôsobenia na koncertnej scéne nahral spolu s Danom prvý pesničkový album "V jabloňovom kraji", ktorý v 10. ročníku Radio_Head Awards získal nomináciu v žánrovej kategórii World Music / Folk.
---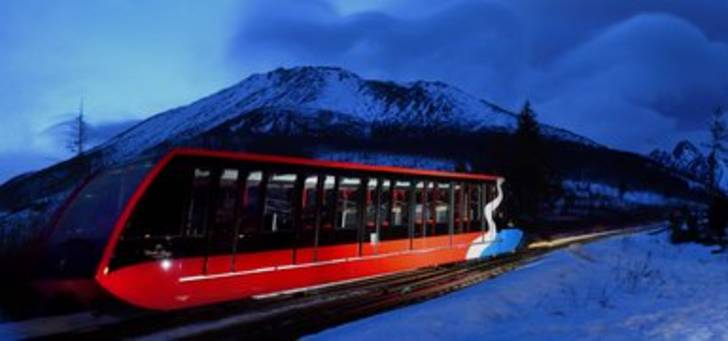 A comfortable funicular operates to Hrebienok to the Tatra Temple from the station of Starý Smokovec and tickets can be purchased comfortably at the ticket office of Starý Smokovec.