CLOSED
Dear visitors, The Tatra Temple of Ice is closed due to current official restrictions until further notice.
---
OPEN DAILY
9:00 - 16:15
Spend a beautiful winter in the High Tatras and enjoy unforgettable moments in the Tatra Temple of Ice in Hrebienok, which is inspired by the
Church of the Resurrection of Jesus Christ in St. Petersburg this year.
---
Visit Hrebienok in winter and experience the magic of the spectacular TATRA TEMPLE OF ICE. The dominant beauty of ice can be admired in Hrebienok from 20nd November 2020. Adam Bakoš was the main designer again. An unbelievable number of 1,880 ice blocks, which is 225 tonnes of ice were used to build the cathedral that is placed under a cupola-shaped cover with a diameter of 25 m. The highest point of the cathedral reaches 12 m.
Church of the Resurrection in St. Petersburg is the main topic of the beautiful and spectacular temple this year. The Tatra Temple of Ice will present a copy of the well-known western facade with three main entrances, a stained-glass rose window above the middle entrance and two main towers that serve as bell towers.
The majestic piece of art, one and only in Slovakia, is definitely worth visiting. Precise work and details are emphasised by beautiful lights. Visit the Slovak rarity and feel like in a fairytale of ice for a while.
---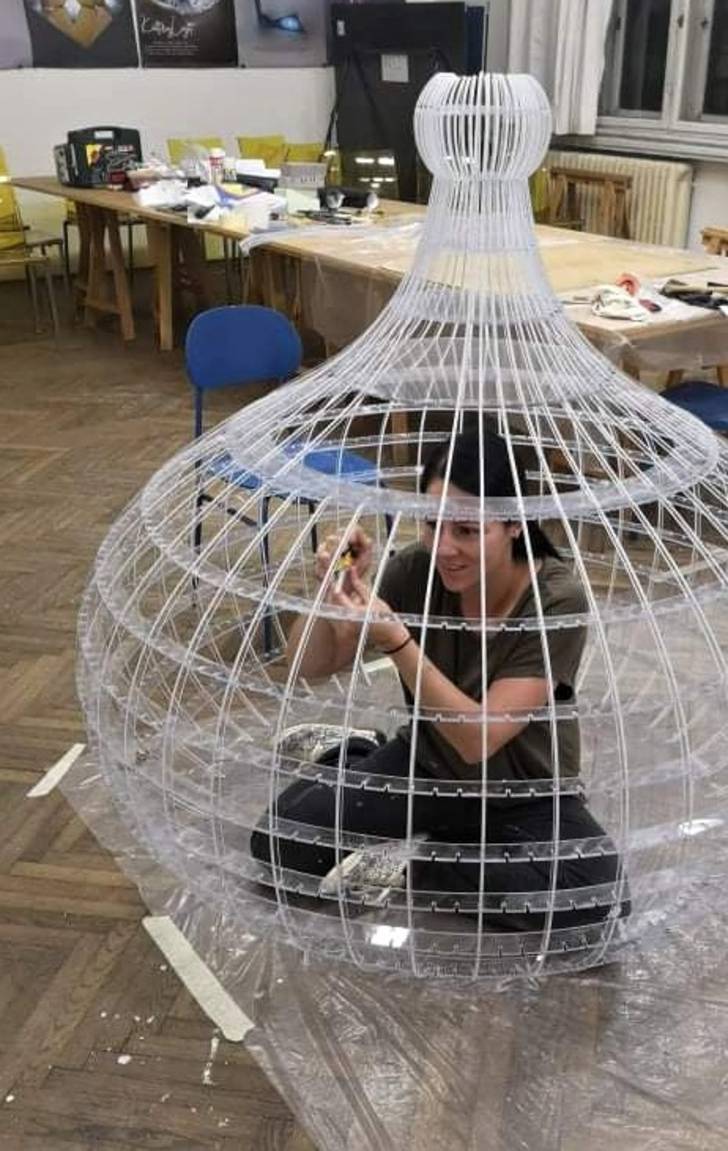 Interesting facts
The realization of the domes for the Ice Temple was covered this year by Mgr. art. Mia Bujnakova, PhD. from the Košice design studio Furnicoolture. In a five-week gallows, he and his partner Peter Klím embarked on the design and construction of domes inspired by the Church of Christ's Resurrection in St. Petersburg. After intensive reflection, they decided to create the pomp and shape purity of the domes with a combination of modern technologies and handicrafts. The bodies of all eight domes were invented as self-supporting structures connected by circles and ribs. The individual parts were then cut from polycarbonate using a water jet in Prešov. They also embarked on a relatively demanding composition of this giant jigsaw puzzle with helpful family members. However, the folding took place in two places at the same time, as it was necessary to think about the fact that the folded domes could get out of the interior. Thus, the four pyramidal domes were born directly in the living room of their apartment and traveled to the Ice Temple, first lowered to the street by a rope from the balcony. However, in order for the domes to be complete, it was necessary to install up to 480 atypically designed pyramids. It was enough to apply knowledge from high school mathematics to calculate the sides of the pyramids, but due to the short memory, other members of the family helped them with that, and they also quickly provided 3D printing of pyramid models. According to these models, and with a little common sense, the production of pyramids began. Peter made almost 2,000 cuts in polystyrene on the cutter, followed by 2,000 cuts and 4,000 sprays of paint using a spray gun. They used 10 kg of facade paint and about 50 pairs of gloves for painting. They refined their skills to such an extent that they also painted the golden domes in a similar way, either in the workshop of the Department of Design of the Faculty of Arts of the Technical University in Košice, where Mia works as an assistant professor or on a quiet sunny Sunday in the adjacent parking lot. It is interesting that the golden domes were painted with a special color used for the letters of the tombstones due to the beautiful metallic luster. They obtained the metal powder directly from a willing manufacturer in as much as 400 times the amount normally available. This project was a big challenge for Mia and Petra and they will probably relax more passively for a while now, but at the same time they are already looking forward to other challenges that will come into their lives.
---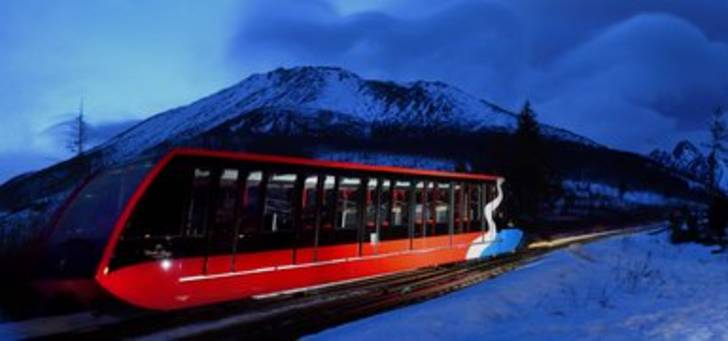 A comfortable funicular operates to Hrebienok to the Tatra Temple from the station of Starý Smokovec and tickets can be purchased comfortably at the ticket office of Starý Smokovec.
---
0€ bankovka s motívom Hrebienka, Tatranského dómu a lanovky

Pri príležitosti otvorenie Tatranského ľadového dómu na Hrebienku sme pre vás pripravili špeciálnu edíciu 0€ bankovky s motívom Hrebienka, Tatranského Dómu a pozemnej lanovky. Začiatok predaja 0€ bankovky Hrebienok - Vysoké Tatry bude 20.11.2020 v reštaurácií Hrebienok. Od 21.11. si bude možné bankovku zakúpiť v obchodoch Tatry Motion v Starom Smokovci a na Hrebienku.
---
Pri návšteve Tatranského ľadového dómu prosím dodržujte následovné preventívne opatrenia.
*Pri výstupe z pozemnej lanovky na Hrebienku sledujte a dodržujte navigačné značenie
*V pripravených vstupných koridoroch dodržujte 2m rozostupy
*Pri čakaní v rade a taktiež pri vstupe do Tatranského dómu používajte ochranné rúško
*Pred vstupom do Tatranského dómu použite dezinfekciu
*V Tatranskom dóme dodržujte pokyny obsluhy.