Skiing in the High Tatras
Only the High Tatras ensure the best skiing adventures in Slovakia. Three top-class resorts: Vysoké Tatry - Tatranská Lomnica, Štrbské Pleso and Starý Smokovec offer high-quality services that all generations love. 24 kilometres of ever-groomed pistes, a 5.5 km-long and 60m-wide top-level carving track, snow at least 5 months per year, beautiful alpine-like environment and atypical attractions guarantee unforgettable holidays. 20 cable cars, chairlifts and ski lifts of the three resorts can transport you within a few minutes to the most beautiful alpine views and panoramas. As for categorisation and credibility, our resorts count to TOP winter complexes in Slovakia.
---
Top ski slope – Lomnické sedlo (saddle)
Enjoy sunny skiing on the highest located and steepest ski slope in Lomnické sedlo, with a starting point in the resort of the High Tatras – Tatranská Lomnica. The highest located and steepest slope at Lomnické sedlo (2,190 m above sea level) will please even the most demanding skiers. A vertical drop of 1,300 m, snow cover for 5 months a year, top modern chairlifts and cable cars together with wider slopes guarantee the best experiences on a top-class 6.5 km-long carving track, which can be up to 60 m wide.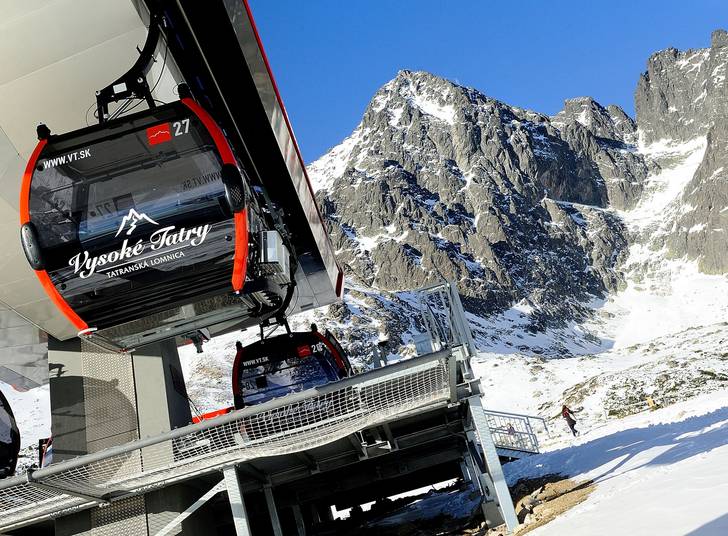 TOP MODERN CABLE CARS
The 15-person gondola that operates between Štart and Skalnaté Pleso in Tatranská Lomnica meets the requirements of the highest technological level that is needed in this mountain area. The route of the new cable car copies the terrain in the minimum height required, which improves the wind resistance. The cars hang on two detachable grips and increase safety even in wind gusting up to 22 m/s. The cable car surmounts a vertical drop of 597 metres, there are 37 cars in total, the journey takes 7 minutes and the transport capacity of the new gondola is 2,400 people per hour. The cable car begins its journey in the lower station called Štart (1,174 metres) and ends it in Skalnaté Pleso at the altitude of 1,772 metres.