SÁNKOVAČKA MIMO PREVÁDZKU
Sánkovačka z Hrebienka do Starého Smokovca je vzhľadom na aktuálne snehové podmienky mimo prevádzky.
Aktuálny stav sankárskej trate môžete sledovať v aktuálnych podmienkach TU
(Aktuálny stav zjazdoviek --> Starý Smokovec --> Sankárska dráha)
Day and night sledging in Hrebienok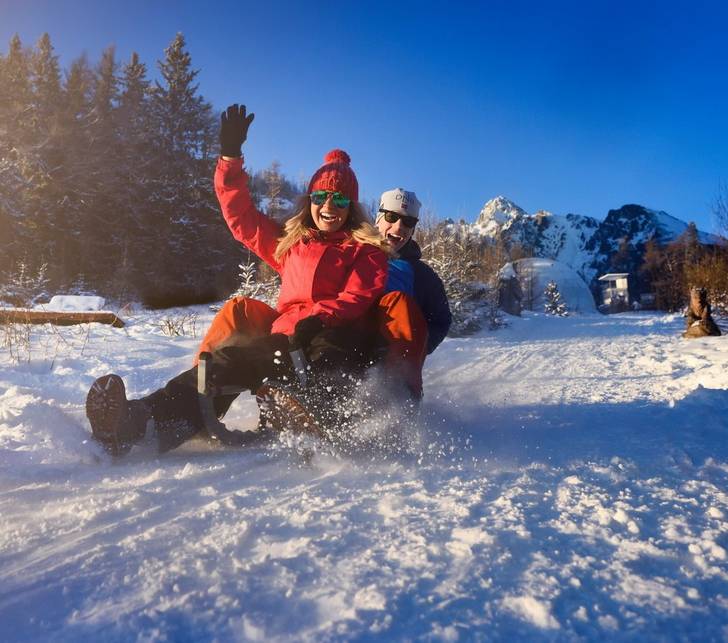 *Day sledging available from 9:00 to 16:30
* Night sledging - based on the Après ski programme
** Based on the weather and track conditions
Enjoy great winter fun in Hrebienok, Starý Smokovec. Day and night sledging is a sought-after attraction, popular with families and groups of friends. Take a comfortable funicular to Hrebienok and sledge down along a 2.5 km-long track.
Day sledging tickets and day sledging rental are available every day from 9:00 to 16:30.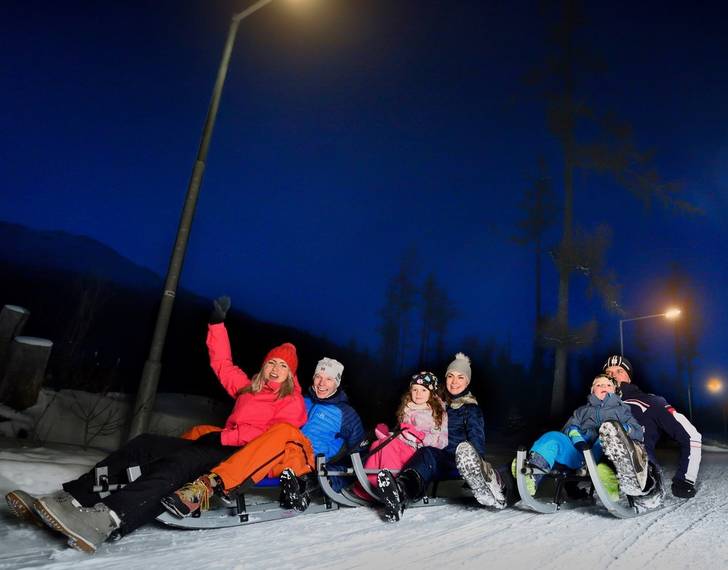 Night sledging
How about experiencing something special? Try night sledging! Zip down along the longest and lit sledging track from Hrebienok to Starý Smokovec at night and enjoy a unique atmosphere.
Night sledging is available in good conditions every Tuesday, Friday and Saturday from 18:30 to 21:00*.
*Tickets are sold from 18:30. We suggest coming earlier so that you manage the first ride at 19:00.
Tatry Motion rent v Starom Smokovci Vám aktuálne ponúka možnosť rezervácie a objednávky saní ktoré si následne môžete vyzdvihnúť na danej prevádzke.
Na prevádzkach sa vybavujú iba vopred zarezervované objednávky a to buď online cez www.gopass.sk alebo na tel. čísle danej prevádzky.

- Tatry Motion Starý Smokovec, od 9:00 do 15:30
- Otvorené od soboty 30.1.2021, iba cez víkendy pia, so, ne
- Cena saní 8€/deň online, 10€/deň offline
- Nutná rezervácia 15 minút vopred cez Gopass alebo telefonicky
Tel.č.: +421 911 403 700 [REZERVOVAŤ]
UPOZORNENIE: Vybavenie objednávky JE PODMIENENÉ PREUKÁZANÍM SA NEGATÍVNYM TESTOM NA COVID-19, PODĽA AKTUÁLNYCH COVID OPATRENÍ.
Vybavenie objednávky podľa platnej vyhlášky: požičiavanie lyžiarskeho vybavenia zabezpečiť v súlade s požiadavkami uvedenými v § 1 ods. 2 písm. h) výdajné miesta tovarov zakúpených na diaľku, v ktorých je možno tovar zakúpený na diaľku prevziať, vrátiť alebo reklamovať, pri dodržaní podmienok podľa § 2 ods. 4, pričom tovarom zakúpeným na diaľku sa rozumie tovar zakúpený prostredníctvom prostriedkov diaľkovej komunikácie bez súčasnej fyzickej prítomnosti predávajúceho a kupujúceho, najmä využitím webového sídla, elektronickej pošty alebo telefónu,
a § 2 ods. 4 Podľa § 48 ods. 4 písm. a), e), r), w), x) a y) zákona sa všetkým osobám vydávajúcim tovar zakúpený na diaľku nariaďuje dodržiavať nasledovné opatrenia: a) zabezpečiť, aby osoby čakajúce na vydanie tovaru boli rozmiestnené v rade pri dodržaní vzdialenosti aspoň 2 metre medzi osobami; to neplatí pre osoby žijúce v spoločnej domácnosti, b) vstup a pobyt vo vonkajších aj vnútorných priestoroch prevádzky umožniť len osobám s prekrytými hornými dýchacími cestami, rúškom, respirátorom bez výdychového ventilu, šálom alebo šatkou, c) v prípade vydávania tovaru vo vnútorných priestoroch prevádzky zabezpečiť: 1. aby v miestnosti, kde sa tovar vydáva bol naraz iba jeden zákazník, 2. pri vchode do prevádzky aplikovať vstupujúcim osobám dezinfekciu na ruky alebo poskytnúť jednorazové rukavice, 3. vykonávať časté vetranie priestorov prevádzky a pravidelne vykonávať dezinfekciu dotykových plôch dezinfekčnými prostriedkami s virucídnym účinkom. Vestníka vlády SR,
čiastka 8/2021, vyhlášky č. 13 ÚVZ SR.