PREVÁDZKA ČLNKOVANIA POČAS JESENE
Prevádzka člnkovania je od 27.9. závislá od priaznivého počasia. Pre overenie dostupnosti služieb člnkovania nás prosím pred Vašim príchodom kontaktujte v čase od 10:00 do 16:00 tel. číslo: +421910737 988 alebo +421 903 409 189. Prevádzka člnkovania končí ku dňu 17.10.2021. Ďakujeme za porozumenie.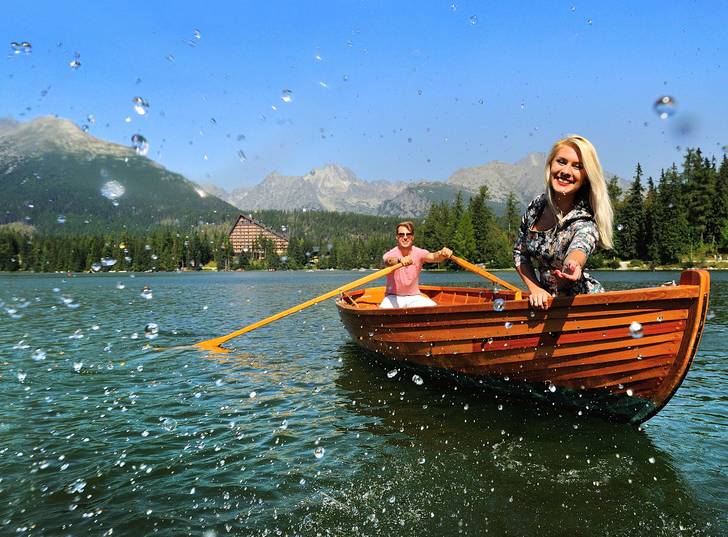 The tradition of boating on tarns of Štrbské pleso and Nové Štrbské pleso is more than 130 years old. The boating on Štrbské pleso was restored on 5th July 2008, after 25 years. The tarn was "unlocked" and you can thus admire a beautiful view of Mt. Solisko and enjoy the calm surface of this unique tarn. It was even trying to become one of the seven new wonders of the world.
There are 18 stylish rowing boats made of wood and 1 sports rowing boat at disposal, all prepared at a new pier with a beautiful view of the Tatra peaks. Have a special experience and hire a private rower. Boating on the tarn: daily between 9:00 - 17.00 (during the summer season)
Did you know that?
The boating on the tarn started when the first buildings appeared in the area. There was a pier and a shelter for boats in 1880. Boating was a popular activity among people at that time, lasting from May to October depending on weather. However, for environmental reasons, both boating and swimming were forbidden in the 1980s. The tarn of Štrbské pleso is under fifth level of protection and all activities have to follow strict rules as a protected species of the whitefish lives in the water.
Boating rules:
1. It is forbidden to fish, angle or feed the wild ducks and fish while boating.
2. It is not allowed to take any food or luggage onto the boat. Luggage can be left with the staff at the pier free of charge.
3. Smoking, shouting and throwing rubbish into the tarn is strongly forbidden.
4. It is also forbidden to swim in the water and jump from the boat into the tarn.
5. You can get on and off the boat at the pier only. It is not allowed to dock a boat outside the pier and go ashore.
6. It is forbidden to row the boat under the influence of alcohol, drugs or endanger the safety of others while boating.