ORGANIZAČNÁ ZMENA
Milí hostia, z dôvodu aktuálnej situácie sa večera počas januára konať nebude. Klientov, ktorí si zakúpili vstupenku budeme kontaktovať. Ďakujeme za pochopenie.
Dinner under the stars - Skalnaté pleso
2nd January /30th January / 20th February/6th March / 3rd April / 1st May 2021
Enjoy an atypical dinner under the stars of the Tatras and a unique atmosphere of a mountain embrace at night. The evening includes adventurous evening cable car transport to Skalnaté pleso, a tasty dinner in the renewed and modern Panorama restaurant and watching the starry sky with professional astronomers of the Slovak Academy of Sciences including commentary.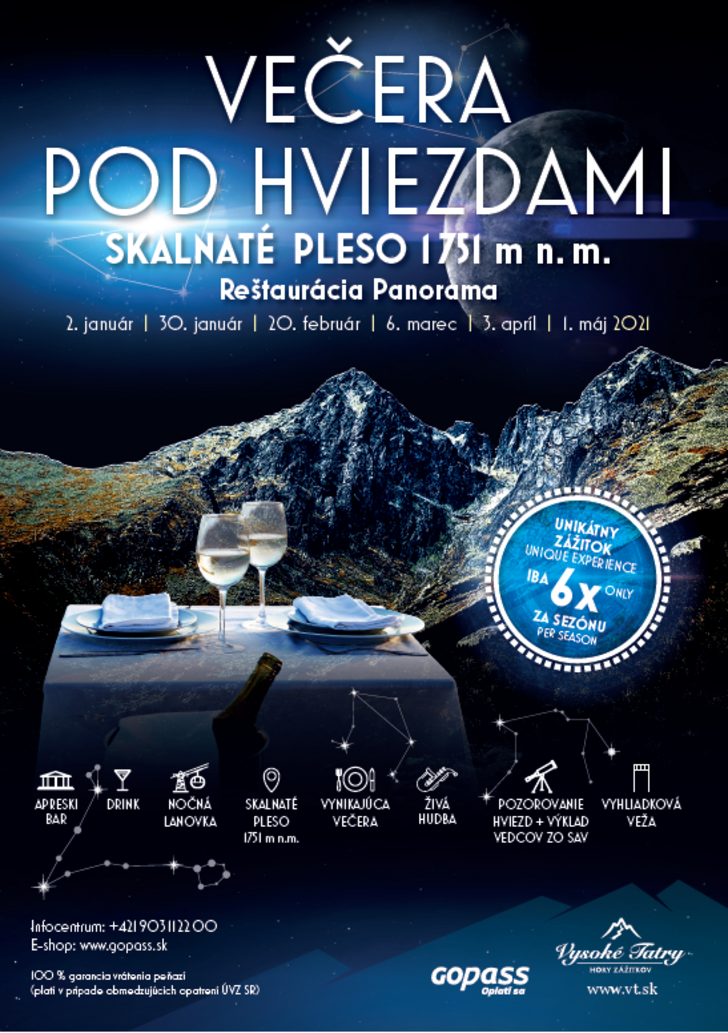 Spend a unique evening at the altitude of 1,751 metres with us, an interesting programme and great food. This extraordinary experience is available only on 6 selected dates. Begin with a welcome drink in the Après ski bar in Tatranská Lomnica. Then enjoy an evening cable car trip to Skalnaté pleso and an embrace of romantic lights. Enter the Panorama Restaurant in Skalnaté pleso and treat yourself to a unique dinner with a relaxing atmosphere. This season, the evening continues with something new – watching the stars with professional astronomers of the Slovak Academy of Sciences. And after the dinner and the exciting programme, visit a sightseeing tower and feast your eyes on the peaks of the Tatras, valleys and their breathtaking night atmosphere.
DATES:
02.01.2021
30.01.2021
20.02.2021
06.03.2021
03.04.2021
01.05.2021
PRICES:
| | Price at ticket offices | Online on gopass.sk |
| --- | --- | --- |
| EARLY BOOKING | 41 € | 41 € |
| Adults | 51 € | 48 € |
| Kids under 12 years incl. dinner | 19 € | 18 € |
| Kids under 6 years without dinner | 9 € | 9 € |
Programe:
17:45 a welcome drink at the Après ski bar in Tatranská Lomnica – a blue tent next to the ski piste
18:00 cable car transport to Skalnaté pleso
18:30 – 20:00 refreshment on the terrace* and dinner buffet in the Panorama restaurant with live music
19:30 – 20:45 RELAXATION with refreshment and herbal tea: watching the stars and the night sky from the restaurant terrace*, a lecture of experts from the Slovak Academy of Sciences (Cafe Panorama opened all evening long – drinks are not included in the price), OUTLOOK TOWER VISIT* - 19:40, 20:00, 20:20, 20:40
20:30 and 21:30 – cable car transport back to Tatranská Lomnica
* applies in good weather, subject to change