Enjoy a great winter day, take a cableway to snowy valleys, relax on sunny terraces or make a winter hike tothe cottages open all year round. Another option is to see waterfalls of Studeny potok.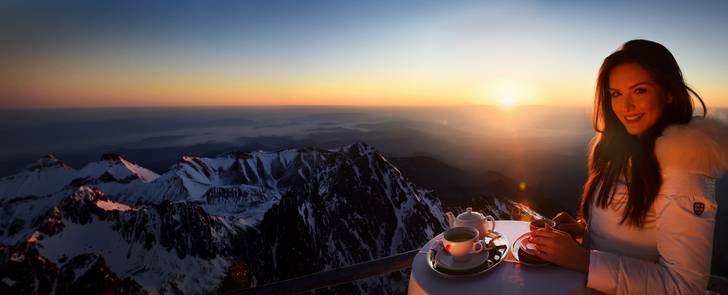 Short walks from Hrebienok
Waterfalls of Studeny potok
It takes only 30 minutes to get from Hrebienok to the most famous and accessible waterfalls. It is a nice walk for seniors or children too.
Rainer's chalet
In Rainer's chalet, 30 min. far from Hrebienok, there is a small museum of Tatra sherpas. You should definitely taste the "self-made tea" of the cottage keeper.
Bilík's chalet
It takes 5 minutes only tol walk from Hrebienok to Bilik's chalet, where you can get some refreshment or have a tasty lunch.
Less difficult mountain trails
Bilik's chalet, Rainer's chalet 1,300 m above sea level
30 min. trails: 3,7

Waterfalls of Studeny potok - Tatranská Lesná
3 h 30 min., trail: 3

Sliezky dom 1,670 m above sea level- Tatranská Polianka
3 h 30 min., trails: 1, 9

Sliezky dom 1,670 m above sea level - Starý Smokovec
3 h 45 min., trails: 1, 4

Zbojnícka chalet 1,960 m above sea level
2 h 30 min., trails: 1,11

Rainer's chalet – Tatranská Lomnica
1 h, trail: 1

Zamkovský´s chalet 1,475 m above sea level
1 h, trail: 1

Zamkovský´s chalet - Skalnaté pleso (tarn)
2 h 30 min., trail: 1

Zamkovský chalet - Téry's chalet 2,015 m above sea level
2 h 30 min., trails: 1, 3
Difficult mountain trails
Slieszky dom - *Poľský hrebeň (ridge) 2,199.6 m– saddle Prielom* - Zbojnícka chalet 1,960 m - Hrebienok
7-8 h, trails: 1, 9, 11, 1

Sliezsky dom - Sedlo pod Ostrvou (saddle) 1,966.4 m - Popradské pleso (tarn) 1500 m - Štrbské pleso
5 h, trails: 1

Slavkovský peak 2452,4 a.s.l.- Hrebienok
5 h, paths: 1, 2

Zamkovský´s chalet - Téry's chalet - *Priečne sedlo* (saddle) - Zbojnícka chalet - Hrebienok
8 h, trails: 1, 5, 6, 11

Zbojnícka chalet - saddle *Prielom 2,290.4 m - Lysá Poľana*
7-8, h trails: 1, 11