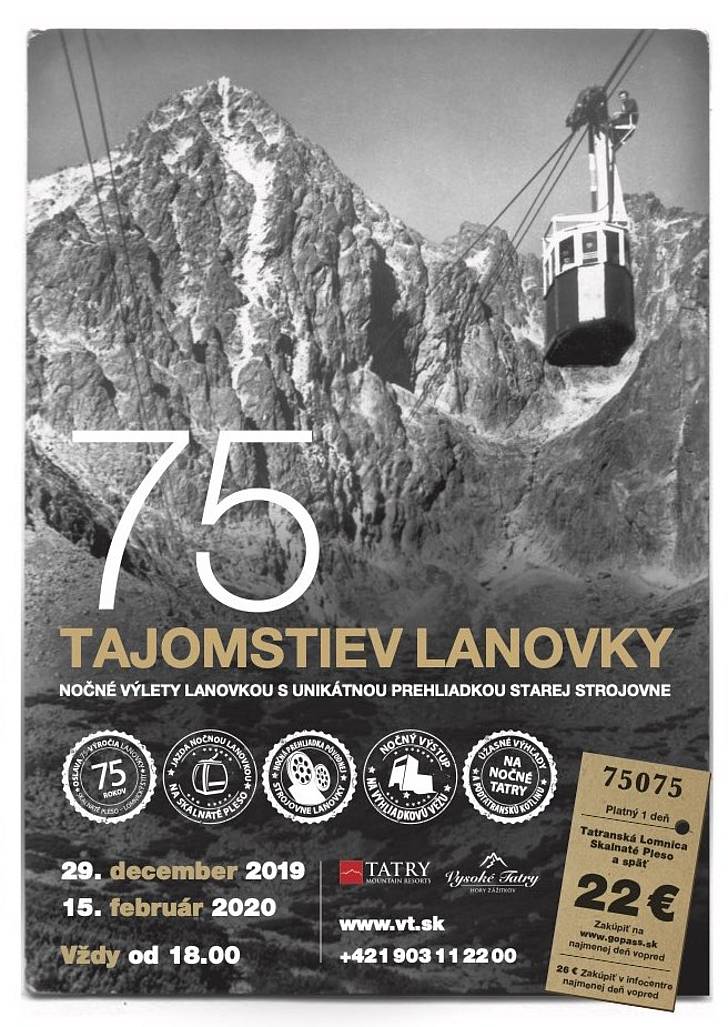 Treat yourself to a unique historical experience and reveal 75 secrets of a famous cable car of the Tatras with us.
Enjoy a magical atmosphere, go back in time and discover all hidden corners of a cable car station. This is a unique opportunity – available only this summer on the occasion of the 75th anniversary. Don´t hesitate, choose a date and spend a very special evening in the area of Skalnaté Pleso. The whole ticket price you pay will be used for an architectonic competition that should decide how the old cable car building in Tatranská Lomnica will be used.
Is has been 75 years since the first car left the station of Skalnaté Pleso for the first time and travelled to the highest located station on Mt. Lomnický štít at the altitude of 2,634 metres. The history of the cable car that was unique in the world in various aspects at that time began before the Christmas of 1941, on 20th December.
Join us and let us show respect to the cable car, express thanks to its constructors and celebrate its 75th birthday together. Choose from five dates and enjoy a night cable car journey to Skalnaté Pleso, which is organised only on this special occasion.
The event takes place in the area of Skalnaté Pleso, where cable cars operate from the lower station of Tatranská Lomnica, and guarantees a night adventure with beautiful views of the starry sky and the lit town skyline of Poprad. Have a look at an exposition of documentary photographs which were made during the reconstruction of the cable car and at the work of architect Dušan Jurkovič, visit the old engine room with a guide and discover the history of the cable car while watching a sequence of the documentary film called "The Story of a Cable Car". Breathtaking views of massive peaks and the panorama of the countryside in the south offered from the observation tower over the Encián gallery will make the atmosphere just perfect.
Beginning: 18:00
Buy in the Information centre of Tatranská Lomnica
+421 903 112 200, info@vt.sk
Final tip: Put on warm clothes and good shoes. The tour is held outside.
---